Host nation:
Qatar
Dates:
20 November-18 December
Coverage:
Live on BBC TV, BBC iPlayer, BBC Radio 5 Live, BBC Radio Wales, BBC Radio Cymru, BBC Sounds and the BBC Sport website and app.
Day-by-day TV listings
–
Full coverage details
Germany players covered their mouths during the team photograph before their World Cup opener against Japan "to convey the message that Fifa is silencing" teams, says Hansi Flick.
The gesture follows Fifa threatening players with a booking for wearing the OneLove armband during games in Qatar.
The captains of seven European nations were set to wear it to promote diversity and inclusion.
No disciplinary action will be taken against Germany.
"It was a sign, a message that we wanted to send out. We wanted to convey the message that Fifa is silencing us," said head coach Flick after his side's 2-1 defeat.
Germany and Chelsea forward Kai Havertz said making the gesture was "the right thing to do".
"Of course, it's important for us to make a statement like this," he said. "I think we spoke about the game, what we can do.
"I think it was the right thing to do, to show the people that we tried to help wherever we can and Fifa makes it not easy for us."
The Germany football federation (DFB) said on Twitter: "It wasn't about making a political statement.
"Human rights are non-negotiable. That should be taken for granted, but it still isn't the case. That's why this message is so important to us.
"Denying us the armband is the same as denying us a voice. We stand by our position."
Germany had planned to wear the OneLove armband, along with England, Wales, Belgium, Denmark, the Netherlands and Switzerland.
World governing body Fifa has brought forward its own 'No Discrimination' campaign, which had been due to start from the quarter-finals.
Captains will now be permitted to wear a No Discrimination armband for the duration of the tournament.
Germany captain Manuel Neuer wore the Fifa armband against Japan.
"We wanted to use our captain's armband to take a stand for values that we hold in the Germany national team: diversity and mutual respect," added the DFB.
"Together with other nations, we wanted our voice to be heard."
Germany question legality of Fifa threat
The DFB says it is investigating whether Fifa's threat to sanction players for wearing the armband is legal.
"Fifa has forbidden us from using a symbol of diversity and human rights," said DFB media director Steffen Simon.
"They combined this with massive threats of sporting sanctions without specifying them.
"The DFB is checking whether this action by Fifa was legal."
Simon told German media outlet Bild the DFB has contacted the Court of Arbitration for Sport (Cas) over the issue and is hoping Neuer will be able to wear the OneLove armband for his side's second Group E game against Spain on Sunday.
Danish football federation chief executive Jakob Jensen said the seven nations that had planned to wear the OneLove armband are "co-ordinating" discussions on their legal next steps.
However, he said it is "not possible" to go to Cas over the issue.
He added: "If you want to go through Cas you need to complain within the Fifa system first, you need to go to the appeals body, then you can go through Cas."
Simon has said previously that the seven nations were faced with "extreme blackmail" from Fifa.
German supermarket chain Rewe has suspended its advertising deal with the DFB in a bid to distance itself from Fifa.
Harry Kane wore the Fifa armband as England began their World Cup campaign with a 6-2 win against Iran on Monday, with Three Lions players also taking the knee before kick-off.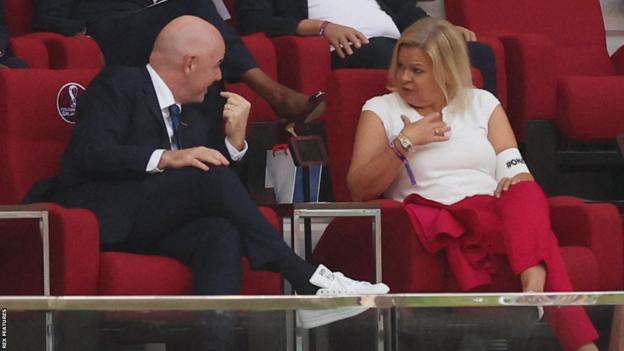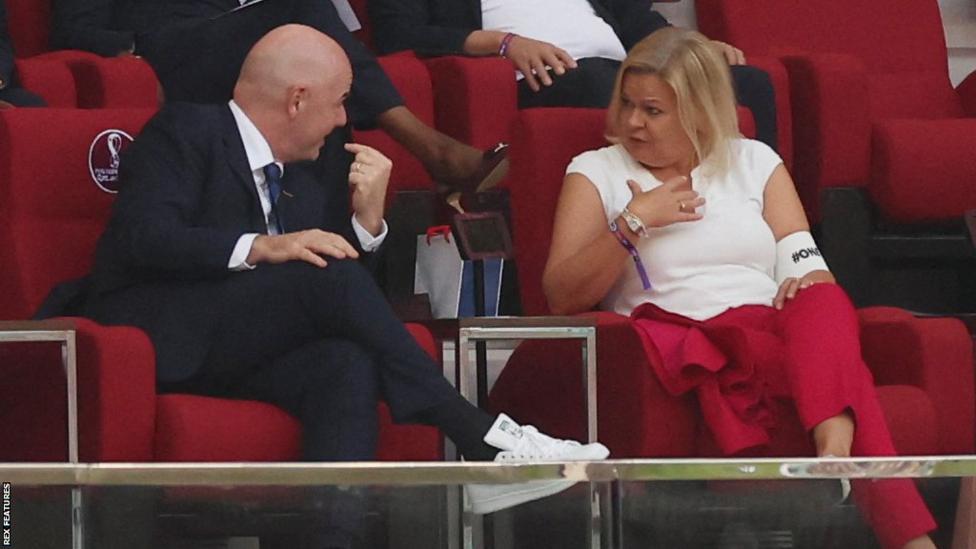 Dutch considering 'making a statement' – Klaassen
It was announced in September that the captains of 10 European nations – England, Wales, Belgium, Denmark, France, Germany, Norway, Sweden, Switzerland and the Netherlands – would wear a OneLove armband at Nations League games and the World Cup.
Norway and Sweden did not qualify for the World Cup while France captain Hugo Lloris said he would not wear the armband because he wanted to "show respect" to Qatar.
The Netherlands began the OneLove campaign before Euro 2020 to promote diversity and inclusion, and as a message against discrimination.
Dutch midfielder Davy Klaassen praised Germany's protest and said they are "thinking about making a statement as a group".
"It has to be done in a good and catchy way," he added. "Germany has found an original way to express their point of view."
But Switzerland captain Granit Xhaka said his team would not stage a similar protest against Cameroon on Thursday, adding: "We have to just accept the rules and that's it.
"We don't have to discuss it any longer. We have to focus on football now and that's the only thing I'm going to do."
England goalkeeper Jordan Pickford said the team had wanted captain Kane to wear the armband but "the decision got taken out of our hands as a squad and as players".
Same-sex relationships and the promotion of them are criminalised in Qatar.
Meanwhile, former England winger Andros Townsend has said he is "a bit uneasy" about protests against Qatar's stance on LGBTQ+ rights in the country given its basis in Islamic Sharia law.
Speaking on Talksport, the Everton forward said Muslim players respect campaigns such as rainbow laces in the UK, but they "can't promote it because they fear they are going against their religion".
He added: "It's difficult – when they are in our country they respect our beliefs. We're coming to their country, we don't agree with it, but it's still their religious belief.
"I'm a bit uneasy that we're coming here and protesting and upsetting a culture when these guys are in their own country."
'Two parallel universes when it comes to the controversies'
Shaimaa Khalil, BBC News correspondent in Doha
The reaction to Germany's stance has been fierce and almost unanimously negative around the Arab world. The hashtag Germany-Japan is trending in Arabic for all the wrong reasons for the German team, with many calling their mouth cover stance in support of LGBT rights 'insulting' and 'provocative' some asking Fifa to put more pressure on players.
"You come to us, you respect our religion, our culture, our norms and our laws – otherwise you can put your hands wherever you like," said one tweet.
Another said "… hunger, poverty, water shortages and many other global problems and you chose only this to be your cause…"
One Facebook post addressed to the Arab and Muslim crowd said "If they [German team are] standing by this cause. Be proud of you religion and stand by it too."
It does feel like there are two parallel universes when it comes to the controversies around this World Cup, especially the LGBT issue.
For the advocates, the activists and the teams – especially the seven whose captains intended to wear the One Love armband – this is a human rights issue they want to remain vocal about.
For hosts Qatar and the spectators who've come here or who are watching around the Arab world with a vast Muslim majority, this is about religion, culture, the norms of the region and mostly about respect, which they don't feel they're getting.
The tension seems to be the perpetual undercurrent of the tournament so far and it's all playing out here on the world's biggest of stages.






Thanks
#World #Cup #OneLove #armband #Germany #players #cover #mouths #row #Fifa